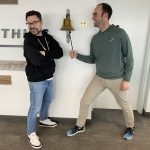 We've made it out of Icemageddon here in Tulsa, Oklahoma and it is GOOD to be back at the agency after a couple of days of working from home. Needless to say, Roop and Sam are really hoping the groundhog doesn't see its shadow this year.
The Super Bowl is coming up—who do you have winning this year? We're rooting for the Chiefs, but apparently some genius on Twitter has predicted the last few years of Super Bowl champs (he made these future forecasts way back in 2016!) and he has the Eagles. We are hoping the Chiefs can overcome his prediction!
And a very Happy February to all of our digital trend subscribers. We'll be bringing you lots of great digital marketing trends this month. This week, we continue focusing on ChatGPT and Google with a little LinkedIn sprinkled in for good measure. How are platforms like Google keeping up with ChatGPT and its various implications on the future of their business?
Let's CHAT about it!
Google Is Launching Its Own Chatbot To Rival ChatGPT
The race for AI dominance is on. Google is apparently feeling the heat from the sudden interest in AI-enabled chatbot systems, in particular – OpenAI's ChatGPT. According to a recent report from The New York Times, Google has earmarked plans to "demonstrate a version of its search engine with chatbot features this year" alongside more than 20 AI-powered projects, all of which will help bolster its existing portfolio and take on the rising threat.
Our Take: Google is acting calm and cool, but we know they're sweating bullets right now over this new AI tech. Listen in to hear our take.
LinkedIn Now Up to 900 Million Members, Continues to See 'Record Levels' of Engagement
LinkedIn has once again seen 'record levels' of in-app engagement in the most recent quarter, with the platform reporting 18% growth in total user sessions, according to the latest data from parent company Microsoft.
Our Take: Those numbers are very, very impressive. Do we believe them? Not sure. See the article in our latest Little Bits from Littlefield Agency regarding the nuance of this reporting.
More from us next week. Here's to no shadows and warmer weather!
Subscribe To Little Bits
Get the latest, greatest advertising and marketing insights and news, plus our POV on what it all means to you and your brand. Sign up below and we'll deliver it straight to your inbox every month.