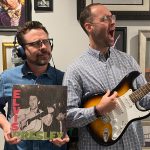 Welcome back to our second episode of Season 2 of Little Talks Digital Trends. We couldn't be more thrilled to announce the arrival of Legend Lee Roberts, who is the latest and legendary son of Courtney! Mom and Legend are healthy and wonderful—welcome to the Littlefield Agency family Legend!
We dive right into our two digital media trends today. We know how busy everyone is, so we're trying to keep it nice and concise this week. Here we go!
Amazon Launches Inspire, A TikTok-Like Shopping Feed That Supports Both Photos And Videos
Amazon is bringing a TikTok-like shopping experience to its app. The company today announced the launch of Inspire, a new short-form video and photo feed that allows consumers to explore products and ideas and shop from content created by influencers, brands and other customers. The feature is designed to draw consumers' attention away from apps like TikTok, where brands can directly market to consumers, in order to drive sales on Amazon.com instead.The shopping feature will initially roll out to select customers in the U.S. in early December, and will become broadly available to U.S. customers in the months that follow.
Our Take: This is no surprise and most likely their attempt to win back shoppers they've lost to TikTok. We think it's a great play by Amazon given their business model. We know this isn't technically a B2B play, but for our B2B clients that sell parts through the Amazon storefront, this is good for you to be aware of given it's a wonderful way to engage your customers through Inspire.
Music Labels Increase Detection Of Unlicensed Music Use In Social
Copyright cases across brands continue to rise as brands attempt to participate in TikTok trends. Brands are prohibited from using licensed music without explicit permission to do so in their social media posts. Recently energy drink brand, Bang, has come under fire for using a personal account instead of a business account on TikTok to post over 100 videos using copyrighted music. Bang was met with lawsuits from three different record labels.
Our Take: B2B brands have to review the terms and conditions on all social media apps they participate in. While that catchy new song might bring in a lot of views, it might also bring legal troubles. We get it, you want to be on trend so your engagement skyrockets. We just don't want you to find yourself in a legal battle with music infringement. We're interested to see if TikTok opens its music library because of this very point.
Next week we focus on one, and only one topic: ChatGPT. Yep, this trend is hot and it's not going anywhere. Stay tuned to hear Sam & Roop's thoughts on what this means for B2B brands and content going forward.
See you then!
Subscribe To Little Bits
Get the latest, greatest advertising and marketing insights and news, plus our POV on what it all means to you and your brand. Sign up below and we'll deliver it straight to your inbox every month.