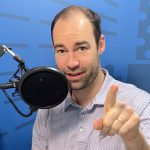 It is a BIG DAY here at Littlefield Agency! As you'll see below, Brandon Bergin is back. He has significantly upped our podcast game and your listening/visual experience. It's been almost one year in the making, but with Brandon's return, our podcast is about to be next level.
Today, we welcomed Sean Hubbard from Ditch Witch for a media/marketing session, and Marco Industries' key executive members also joined us for a branding kickoff meeting. Many wonderful things are happening at the agency on this first day of March!
Let's dive into this week's main digital trend topics.
Internet & Mobile Advertising Spend is HUGE
Astute Analytica announced that internet advertising remains the most significant and rapidly growing digital marketing sector, reporting nearly $476.46 billion in revenue for 2022. Their research found that mobile advertising accounted for roughly half of the total digital advertising spend. According to the study, around 71% of all digital ad spend went toward five key companies: Google, Facebook, Microsoft, Verizon, and Amazon.
Our Take: Half a trillion dollars is BIG time. While this is no surprise, the mobile advertising/site experience is emphasized. Keep in mind the location of your brand's target audience and the strategy of connecting/engaging with them no matter where they are.
Microsoft's Bing Plans AI Ads In Early Pitch To Advertisers
The tech company has started talking to ad agencies about ways to earn revenue from its revamped Bing search engine. Generative artificial intelligence powers the search engine as it attempts to compete with Google. It has recently captivated audiences by producing original answers to open-ended questions in a human voice. As Bing AI chatbot responds with more human responses, Microsoft expects a surge in users to its search function, leading to increased advertisers. Bing chatbot ads may appear more prominently on the page than traditional search ads.
Our Take: Early search data from Microsoft's Bing and Google's chatbot, Bard, shows they can be unpredictable. Some results could be more accurate, which is no surprise at this point in their testing. There is a waitlist for Bing's chatbox. We are closely monitoring this and will continue to share updates.
We hope this viewing experience is everything we've played it up to be. We will see you next week!
Subscribe To Little Bits
Get the latest, greatest advertising and marketing insights and news, plus our POV on what it all means to you and your brand. Sign up below and we'll deliver it straight to your inbox every month.