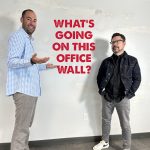 Welcome back to another polished (we are two for two—thank you, Brandon Bergin!) edition of Little Talks with Littlefield Agency. We discussed some interesting digital marketing trends this week that actually are not in our monthly digital trends email our clients received this week.
Before we dive in, get excited about a mural that is coming to one of our biggest walls at the agency. Everyone showed up to the agency this morning to a newly blank office wall. The only person that knows what's happening? Freaking Sam. Roop is worried; others have no idea what he has planned—the agency is buzzing with what possibly this wall could become. 
Any guesses?! Stay tuned, the big reveal is next week!
One last thing: Happy 11-year work anniversary to our boy Steve Roop! We are so fortunate to have him on the Littlefield team.
Alright, let's do this.
Let's Talk Operations (and Marketing) for Your B2B Brand
CEO Kevin Hochman ended an unnecessary shrimp-bagging process for Chili's 1.1k+ locations and 60k workers that'll save the company ~$6M a year. He also discontinued serving fries in baskets to save employees from washing 40M baskets a year.
Our Take: How many processes like this has your business grown into over the years that now introduce unnecessary waste (of money, time, or both)? We're all about efficiency and looking for ways to streamline processes. It's why we're such big fans of automation systems like HubSpot. Roop and Sam go beyond operational and talk through marketing efficiencies within your own CRM system.
Is Meta Betta?
Mark Rabkin, Meta's vice president for VR, reported to staff that Meta has sold 20M+ Quest headsets. In comparison, the Nintendo GameCube only sold 21M consoles overall.
Our Take: MORE THAN GameCube!? WOW! Still, a ways to go to overcome PlayStation (102.5M), the Wii (101.6M), PlayStation 3 (87.4M), and Xbox 360 (84M), but we're still impressed. If your B2B brand isn't in the Metaverse yet, there's a good chance you eventually will be. Look at this beyond a shiny object. It's a great touchpoint with your B2B customers, especially if you have a longer sales cycle.
Programming Note: There's a 40% chance Chelsea Clement will be a guest next week. Her first appearance for 2023. LFG!
– Roop, Sam & Brandon
Subscribe To Little Bits
Get the latest, greatest advertising and marketing insights and news, plus our POV on what it all means to you and your brand. Sign up below and we'll deliver it straight to your inbox every month.