This month we are happy to share some interesting Media, Content and Design announcements, articles, features and reports along with our take on each, to help keep you up to date with the latest marketing news.
Should Netflix Sell Ads?
Raise your hand if you subscribed to Netflix for DVD rentals. Anyone?
Netflix's infamous subscription model differentiated it from Blockbuster, may it rest in peace and the company's leap of faith to streaming differentiated it among media firms.
Now, amid slowing growth and ruthless competition, analysts believe Netflix may need to un-differentiate itself, and that a world with ads on Netflix might make sense.
Let's step back
Netflix's historically massive YoY subscriber growth has slowed, and hasn't eclipsed the 20% mark since Q4 2020. Why? Per Stratechery:
The pandemic pulled growth forward and Netflix neared North American market saturation (75m subs among 132m households).
Over the same time, competition heated up across Disney+, HBO Max, Paramount+, Amazon Prime Video, and Peacock.
Despite this, Netflix has a strong business. "We were about a $20B revenue business 2 years ago… we're $30B revenue now," the company's CFO, Spencer Neumann, said last month.
So why the need for ads?
True, there are other ways Netflix can grow revenue, including:
Raising prices, which the company has regularly done over time.
Gaming, which Netflix has prioritized, buying 3 gaming studios in the last 7 months.
But these options have downsides. Raising prices can drive churn, it's unclear if Netflix and gaming are a fit, and password policing will piss off half of America.
Or, there are ads…
… which Netflix is not entirely opposed to. "It's not like we have religion against advertising," Neumann said recently.
Many other streaming services offer ad-supported plans at lower price points, and they're growing fast. Analysts have also said that an adless Netflix is missing out on $9B in potential revenue.
An ad-supported Netflix tier would offer price-sensitive subscribers a low-cost alternative, and if done right, the user experience wouldn't take much of a hit. Take TikTok, for example, where ads themselves are TikToks, and sometimes go viral as a result.
Our take: Just the thought of adding commercials to Netflix made over 200,000 subscribers, unsubscribe. Although, adding a lower cost option, could makeup for the loss and then some.
The Snap Generation 2022
The Snapchat Generation aka Daily Snapchatters are pioneers in using tech to connect, communicate, and create. Whether they are experimenting with the latest Filters & Lenses, sharing photos & videos, or simply chatting with friends, Snapchatters are shaping and being informed by their networks and surroundings.
Our take: This report highlights what Snapchat knows about the users who access their platform daily to connect, communicate and create with Filters, Lenses, Photos and Videos. In short, their users are more leaned into a visual-first mentality, are 1.6x more likely to use AR for try-on capabilities and are more loyal when it comes to supporting brands and connections.
Meta Reiterates the Value of Personalized Ad Tracking in New Ad Campaign
Meta launches a new ad to encourage users to continue receiving personalized ads promoting the message that "Good Ideas Deserve to be Found". The Social Media company has felt the impact of the Apple ATT update for iOS systems and their most recent earning report highlights the criticism of the Apple update and the pain it will inflict on their bottom line. Enter their latest ad marketed as a promotion to help small business owners reach more customers and recover from the pandemic. In addition, Meta has provided some tips on how SMBs can leverage digital ads in the changing online landscape.
Our take: Personalized ads are good for more than mom and pop businesses, being able to reach the right customer when they are browsing the internet at the right time is crucial to all businesses. We will be keeping an eye on all the changes in the Meta digital advertising space.
New Details Emerge of Meta's Ten-Year Growth Plan for AR Wearables and the Metaverse
The metaverse is the future of Meta, and Mark Zuckerberg's own legacy, but in order to make the fully immersive, fully interactive metaverse a reality, Meta will need to usher in a whole new age of tech adoption, involving high take-up of its VR headsets, as well as it's coming AR glasses product.
Our take: Didn't we call something like this on the podcast about a month ago?
Spotify Influencers Are On The Rise
Spotify announced a new Featured Creators pilot that will spotlight popular playlists curated by select Spotify users and influencers. Though an unexpected choice, Spotify is emerging as the latest platform brands are leveraging for influencer marketing.
Our take: Utilizing influencers for two different types of playlists on Spotify: user-generated playlists or sponsored playlists is a great way to reach your target.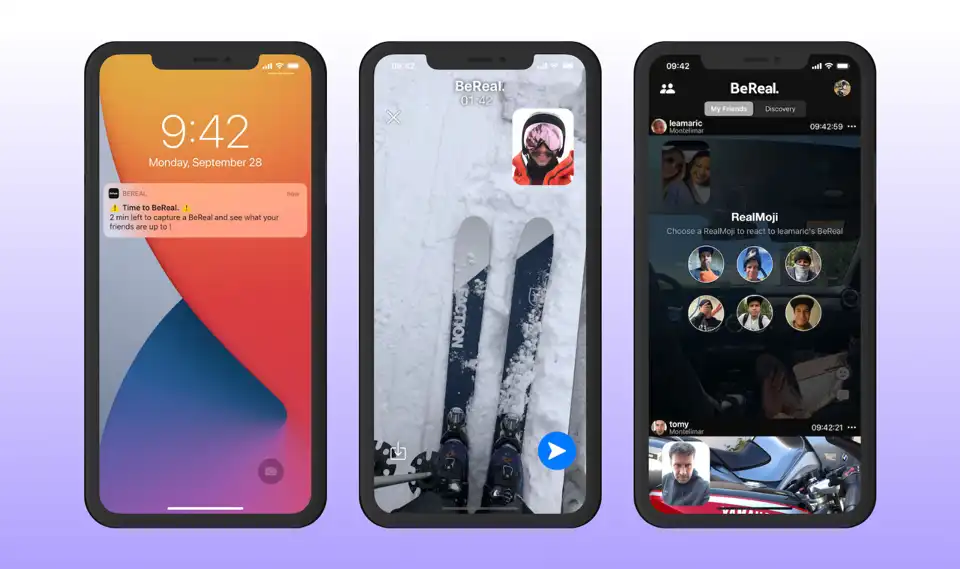 The Social Media App That Wants You to Get Off Your Phone
A new social-media app called BeReal has caught fire on college campuses, per Protocol, where students find the authenticity of the photos and simplicity of the feed a refreshing change from the glamour of Instagram. Instead of allowing users to curate their feeds with any pic they want whenever they want, BeReal only lets users post once a day.
Our take: Who knows if this specific platform is still around a year or two from now, but the concept is pretty solid—less social addiction, more "being present" in the real world. We approve.
For OOH Advertisers, The Sky Is No Limit
At SXSW, Paramount+ caused a big commotion when it deployed 400 LED-equipped drones to form an out-of-home (OOH) ad – a massive QR code suspended in midair – to promote its Halo series. But a new ad format is making it clear that not even the sky is the limit for OOH advertisers.
Now, running digital OOH ads in the freezer aisle is an option thanks to a startup called Cooler Screens, whose interactive technology has been transforming clear freezer doors of major retailers like Walgreens and CVS into opaque digital displays that showcase product inventory and promos.
Our take: Using drones to promote a new product launch is cool. The Cooler Screens on the other hand is proving to be more of a nuisance than a positive way to promote your brand in-store.
YouTube Launching New Search Insights Tool
YouTube Search Insights, which was previewed as an experimental feature in November, will become available to all creators and brands by the end of this month, the company announced.
The tool shows you data based on searches across all of YouTube, as well as just your viewers' searches. There is also a content gap filter, which shows you searches for which searchers were unable to find a video. These are bucketed by search volume (high, medium, and low).
Our take: While Google generally has taken away data, it's nice to see them provide search query data to help brands and creators create more relevant content.
Show Your Furry (or Scaly) Friend How Much You Love Them With Their Own Pet Playlist
In honor of National Pet Day Spotify has brought their 2020 Pet Playlist feature back to the forefront. Simply input what pet you have, some little details about their energy level and affection, include a picture and your pet's name and you're good to go! You might find some awesome classic rock if you've got an interesting iguana, or you might find that your cat is totally into Ariana Grande.
Our take: We'll be making playlists for all our animal companions!
TikTok Launches 'Interactive Add-Ons' to Help Brands Build More Engaging Ads
TikTok has introduced a range of Interactive Add-Ons to engage viewers and prompt them to take action on your ads. These interactive features will be available on a two step scale: Premium and Standard. These features do not relate to ad spend, but to you specific goals. Standard add-ons are for reaching lower-funnel marketing goals and driving clicks and conversions. While Premium add-ons are for reaching that upper-funnel level and engaging a community and building brand awareness. These add-ons are still in the testing phase and not available to all advertisers just yet.
Our take: We would love to take a look at how these new features engage audiences on TikTok. Users on the platform have a very outspoken response to ads, perhaps adding a way to make them more engaging will encourage more engagement from viewers as they scroll their way through TikTok.
Snap Aims at the Metaverse With New AR Product
"Custom Landmarkers" lets users and marketers create AR visuals tied to a specific location, such as storefront displays, billboards and more. Because these capabilities are enabled with a smartphone camera lens, this signals the focus some companies are placing on the ability to access virtual worlds through any phone, as opposed to requiring an expensive headset.
Our take: AR has been a defining feature for Snap that has turned it into a major player in marketing, particularly in the beauty industry. Now, Snap is taking the product's success and expanding it to other uses.
Testing, Testing: Piloting New Formats for Twitter's Ad Suite
Pilot tests recently began for Interactive Text, Product Explorer and Collection Ads. The first ad format appears in bolder text in user timelines with up to three words that can click out to separate landing pages. Product Explorer ads offer 3D opportunities for users to swipe and rotate product images to see them from different angles. Collection ads display one primary image with up to five additional thumbnail images that can all drive to separate landing pages or websites. All three ad formats will be visible to people in the U.S. on iOS devices, Android devices, and Web.
Our take: The new ad formats may work for retail clients, time will tell.
TikTok Continues to Lead the Download Charts in Q1, Sees Record In-App Spending
Despite every effort to steal its thunder, by replicating its features, and diluting the 'uniqueness' of the app, Meta just can't seem to slow TikTok's growth.
Our take: It's an age thing, and Meta better get used to it. And TikTok? You'll be that "old man" one day too …
Instagram's Working on a New Option That Would Simplify Reels Monetization for Creators
Instagram's testing out a new process which could make monetizing Reels much easier, which could be key to holding onto top short-form talent as the competition heats up in the space.
The process would essentially enable Reels creators to include ads in their clips without them having to do any extra work – brands would be able to view eligible clips, then insert ads if they choose.
Our take: Making it easer for Reels creators to monetize their short videos could keep more creators on Reels as opposed to switching to another platform such as YouTube.
YouTube Adds New Live Stream Features, Including Live Guests, Full-Screen Mode and More
YouTube has previewed some coming updates for YouTube Live, including live stream guests, new notifiers for when a channel is broadcasting in the app, and updated viewing options.
Our take: Likely in a move to lure content creators away from other platforms, YouTube is investing in several new Live streaming features that make it easy to connect and engage with fans in real-time. For example, a new pilot program, "Go Live Together", will allow creators to invite guests to livestreams by sending a link. "Live Rings" will also help viewers identify when channel creators are going live, like what users are used to seeing on platforms like Instagram.
Instagram Wants More Original Content on It's Platform
Along with the recent rollout of product tagging we discussed above, IG has announced that they are going to start ranking for originality. So the days of sharing your TikTok video to your IG page will soon be looked down upon. Same goes for repurposing old content over time, or…
Our take: We're here for it. We recommend original content given that each platform generally has a different audience and authenticity is a big proponent of good social engagement, but since identifying 'originality' is hard, we'll have to see how this plays out over time.
Instagram Product Tags Are Now Available to All Users in the US
Following up on its announcement late last month that all users would soon be able to use product tags in their feed posts, Instagram has today announced that all users in the US can now insert product tags in their updates.
Our take: That was fast, but here we go!
---
Get Little Bits In Your Inbox
Sign up below to be among the first to get notified when Little Bits is released every month!