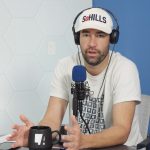 It's a VERY big week as we celebrate our 43rd year in business. David Littlefield had a vision on June 5, 1980 and little did he know at the time that his son Sam & today's amazing team at Littlefield Agency continues building upon that foundation & vision nearly a half a century later.
We welcome Beth Kaiser to the agency this week! She started as our Paid Search Campaign Manager and we couldn't be more excited to have her here at Littlefield. Additionally, our first LITern of the summer, Emma Tuttle, started her internship in the creative department. We have a second LITern starting in two weeks, so we will introduce her then as she settles into the content department!
Wellness week, everybody's FAVORITE week of the year (besides Christmas break) is next week, so stay tuned for all of the wonderful things the agency has planned to promote mental health awareness month.
And now, for your long awaited digital trends—let's do this!
YouTube's Rolling Out 30-Second Unskippable Ads to Connected TVs
YouTube's looking to capitalize on the rising usage of the app on home TV sets, with the expansion of 30-second non-skippable ads to Connected TV campaigns. Which could be an annoyance for viewers, but the capacity to use YouTube to reach people via the biggest screen in their house has big potential for marketers, with TV traditionally being the most effective avenue for broad reach marketing.
Our Take: Video is video here in 2023, but this is an awesome opportunity in a very cost effective way to impact your brand awareness.
LinkedIn's Now Up to 930 Million Members, Continues to See Strong Engagement
While the other social apps continue to reform their core offerings, and re-shape their audience focus, LinkedIn has continued on its own steady path, which has seen it progressively add more members, and boost user engagement. Indeed, the professional social network is now up to 930 million total members, up from the 900 million it reported back in January.
Our Take: This is the year we're really taking a hard look at LinkedIn as a means of reaching audiences, and these numbers are encouraging. They're also a bit surprising given these are double what they were just five years ago. LinkedIn exploding? Wasn't on our 2023 bingo card, but hey, neither was AI as we chatted digital trends in Q4 of last year!
Talk next week!
Brenda, Brandon, Roop & Sam
Subscribe To Little Bits
Get the latest, greatest advertising and marketing insights and news, plus our POV on what it all means to you and your brand. Sign up below and we'll deliver it straight to your inbox every month.