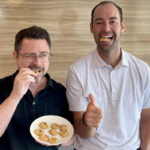 Welcome back to another addition of Little Talks with your latest and greatest digital marketing trends! We have some great new trends our agency has been putting together over the past month in the ever-evolving digital world. This week's podcast is a little shorter, but the content is solid and music to our marketing ears.
Google Delays Move Away From Cookies In Chrome To 2024
Google is again delaying plans to phase out Chrome's use of third-party cookies — the files websites use to remember preferences and track online activity. In a blog post, Anthony Chavez, Google's VP of Privacy Sandbox, said that the company is now targeting the "second half of 2024" as the timeframe for adopting an alternative technology.
Out take: We called it! And we couldn't be happier. We would not be surprised if there are more pushes in the future. OR the next iteration of cookies comes out for marketers because who wants irrelevant ad targeting? Not us.
Instagram Adds New 'Boost' Promotion Option for Reels Clips
As it continues to double-, and triple-down on short-form video, Instagram will now enable brands to amplify their Reels clips, via a new 'Boost' promotion option built into the format. Instagram says that Boosted Reels will be eligible to appear in feed, Stories, the Reels tab and the Explore page to help new customers find your brand.
To be eligible for boosting, your Reels clips must be less than 60 seconds and have a 9:16 aspect ratio, "which means they're filmed vertically and have a full-screen format". Reels that use third-party IP – such as copyrighted music, GIFs, interactive stickers, or camera filters – are not eligible for boosting. In addition to this, Reels which have been shared to Facebook are also not eligible
Our take: It might be a good way to get more people engaging with your Reels content, but really, the ultimate success of your short video clips will be determined by the actual content, and how well you understand what your target market wants to see from your brand and engage with. Content is King—don't you forget it.
Catch you next week.
Love, your favorite podcast duo (Roop & Sam)
Subscribe To Little Bits
Get the latest, greatest advertising and marketing insights and news, plus our POV on what it all means to you and your brand. Sign up below and we'll deliver it straight to your inbox every month.