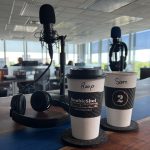 Welcome back to another week of digital trends with Littlefield Agency. Your hosts, Sam Littlefield and Steve Roop, go live from the open area of our agency instead of the usual podcast studio. We encourage you to watch the video below to get a taste of our space and, of course, some of the personality of our people as they go about their daily work lives. (Tune in for a special treat that includes our creative director getting booed.)
It's an important week and everyone's favorite week here at the agency––welcome to Wellness Week 2023! During this time, our agency focuses on mental/physical/emotional health by implementing great events helping us to be mindful of our overall well-being. Our hosts go into detail about the events going on this week. Keep up with everything going on via Instagram, Facebook, and TikTok if you want to follow along.
Alright, digital trends, here we come.
LinkedIn Enables Company Pages DMs
LinkedIn users can now DM a Company Page directly to start a conversation via the app. In addition, Page admins can respond on behalf of the business' Page, providing another engagement option. LinkedIn's new 'focused inbox' feature can help organize the inboxes by separating DMs into priority vs. general. Brands also have the option to choose if they would like to switch this Message view on or off.
DMs can be sent directly to Company Pages, and the app can respond to them as the Page. For large companies, this might be a bit of a hassle to manage. The LinkedIn 'focused inbox' process, which separates DMs based on their priority and topic settings, should help sort through DMs for pages. Messages can also be turned off by brands if desired.
Our Take: Feels almost silly that this wasn't already a thing––but that's LinkedIn for you! 2023 is definitely "The Year of LinkedIn." Listen to how your B2B brand can use this new capability.
Apple Debuts Its First 'Vision Pro' AR Headset (And Its Huge Price Tag)
After years of development, Apple unveiled its first version of its AR glasses (basically a Meta Quest device, minus the VR), the Vision Pro. The company is praising this as the "new spatial computing era." Features include simplified eye and finger controls, digital elements that respond to real-world cues, and immersive AR.
Our Take: It looks great, and some amazing use cases could stem from it. HOWEVER, almost all of the same can be done in a Meta Quest VR unit already with the addition of full VR (which the Vision Pro doesn't have). And for a lot cheaper. At launch early next year, the Vision Pro will be priced at a whopping $3,499 (which doesn't include tax or Apple care)! For comparison, the new Quest 3 unit is coming this fall and will be around $499. C'mon, Apple?!
Where in the world will Roop and Sam record the podcast next week? Tune in then to find out!
Talk then,
Brenda, Brandon, Roop & Sam
Subscribe To Little Bits
Get the latest, greatest advertising and marketing insights and news, plus our POV on what it all means to you and your brand. Sign up below and we'll deliver it straight to your inbox every month.