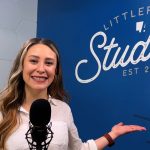 Welcome to another episode of Little Talks with Littlefield Agency; we are back in action! Believe it or not, we don't have AI as one of our main digital marketing trend topics today but don't worry, we still talk about it given the way our agency is embracing it.
We alluded to it last week, but covered it this week: BeReal. Is this the end for Roop's favorite platform from 2022? The gang also covers Twitter alternatives as new rivals—with deep pockets—have emerged to replace the troubled Blue Bird.
BeReal Adds New Elements As It Struggles To Maintain User Interest
As a key trend of focus in August of last year, BeReal had reached an estimated 73 million monthly active users, and many proclaimed it the next big thing in social apps and the return to its roots of authentic connection. As a result of the BeReal trend, copycat features have appeared on TikTok, Instagram, and other platforms, and downloads have dipped since that peak in August. As part of its expansion, BeReal is testing new features, such as Spotify integration and multiple photos. Mostly, it feels like the ship has sailed, and the crew is trying to catch up with it.
Our Take: We hate this for them because it was one of the first fresh takes on a social media platform in years. What is next for BeReal? Listen to what Roop and Sam have to say.
Meta's Text-Based, Twitter Alternative 'Barcelona' Is Forming
According to reports circulated early last month, Meta was considering creating its own Twitter replacement, a move that could enable it to snag Twitter refugees looking for a new home. In the works? Jack Dorsey's clone of Twitter, Blue Sky.
Our Take: The leaked splash page calls this "Instagram for your thoughts." We don't know about that, but someone is likely to pick up the pieces of crumbling Twitter, and it might as well be Meta or Twitter's founder, Jack Dorsey. It's the waiting game now—will there be a mass adoption?
Thanks for listening, and we look forward to catching up with you next week! Could Chlesea be returning to the third mic? Tune in to find out next Wednesday!
Sam, Roop, Brandon & Brenda
Subscribe To Little Bits
Get the latest, greatest advertising and marketing insights and news, plus our POV on what it all means to you and your brand. Sign up below and we'll deliver it straight to your inbox every month.