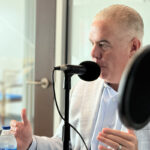 We hope you're ready for the best podcast to date! Roop is back from Boston where he will dive into key learnings and takeaways over the coming weeks. On this week's edition of Little Talks with Littlefield Agency though, we host our first outside-of-the-agency guest. Roop and Sam welcome Sean Kouplen, Chairman & CEO of Regent Bank.
Sean has quite literally built the Regent brand, starting with three employees in the economic downturn of 2008, and now has 185 employees in Tulsa. He's a visionary, servant leader and has empowered his team to continue building the Regent brand as they experience tremendous year-over-year growth.
On top of running this successful financial institution, Sean coaches Oklahoma's Little League World Series team which recently became a national sensation with the "hug heard around the world" (see video below). The story alone is great. The story leading up to that moment? Cue the goosebumps.
We're excited for you to listen. Roop and Sam walk away inspired—we can't imagine what the Regent employees feel every day when they go home!
Thanks for listening. And thanks to Sean joining us this week at the agency!
Subscribe To Little Bits
Get the latest, greatest advertising and marketing insights and news, plus our POV on what it all means to you and your brand. Sign up below and we'll deliver it straight to your inbox every month.