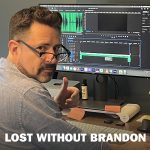 Welcome to another edition of Little Talks with Littlefield Agency. Roop and Sam call this week's edition "unplugged," given that Brandon's at a video shoot for American Augers and Trencor in Ohio. We went old school today with no video, but it's all good because we'll be back in action next week with our normal setup!
Before diving in, we would like to wish Sean from Ditch Witch a wonderful 40th birthday—to our great friend and client, welcome to your fourth decade of life! On top of the Ohio video shoot, we had a team in Kansas with Grasshopper Mowers this week for all things 2024 planning. Later, we host Ditch Witch for their quarterly analytics overview before we sail into their new fiscal in a few months. There are a lot of moving pieces, but we love this back-to-school, busy time of year!
Your digital trends, delivered:
OpenAI Reported A Loss Of $540M In 2022
Undoubtedly, AI language models are a big-ticket industry, but the production costs are unclear. According to The Information, OpenAI's figure totaled $540 million in losses during the creation and launch of ChatGPT last year. While the startup's forecasted revenue is expected to earn hundreds of millions in the long run, the operational costs will also increase.
In the next few years, OpenAI CEO, Sam Altman, aims to raise $100 billion to build an AI capable of improving itself. The company is beginning to collect fresh data sets, some of which aren't available yet.
Not to worry, AI isn't going away––but listen in on Sam and Roop's perspectives on how this affects companies and their abilities to lean into generative AI functions.
Meta Unveils New Generative AI Tool For Enhance AI Accuracy
Meta's trying to tackle the problem of AI giving inaccurate or misleading responses by, ironically, using AI via a new process called Shepherd LLM (Language Learning Model). It evaluates model responses and suggests modifications to power more factual, generative AI outputs. This model could eventually be baked into overall AI platforms.
Ultimately, the push will see AI tools getting better, faster and stronger in understanding queries. While generative AI is helpful for what it's doing now, it's getting closer to being more reliable as an assistive tool and likely a bigger part of your workflow.
Back next week, we will catch you then!
– Roop, Sam and Brenda (but no Brandon)
Subscribe To Little Bits
Get the latest, greatest advertising and marketing insights and news, plus our POV on what it all means to you and your brand. Sign up below and we'll deliver it straight to your inbox every month.