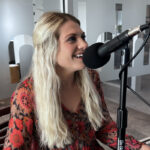 Welcome back to the wild, wild west. Today's podcast may be the craziest yet! As we wrap August and deploy September's digital marketing trends tomorrow, we keep it (we thought) nice and chill.
The joke is on Roop and Sam because today's special guest, the one and only Chelsea Clement, comes in guns blazing! Instead of focusing on digital trends, she steers us in the direction of what she's calling "office etiquette". Today's edition: how to properly travel with Queen Chelsea. Let's just say she gets right to the point and doesn't beat around the bush.
Get ready for next week! Roop travels to Boston for HubSpot's INBOUND conference and will be going live from the northeast. Follow along on Instagram and Facebook for thought provoking content and behind the scenes access to the conference. Have a wonderful Labor Day. We appreciate and love our listeners!
Roop, Sam (and Crazy Chelsea)
Special video preview of this episode.
Subscribe To Little Bits
Get the latest, greatest advertising and marketing insights and news, plus our POV on what it all means to you and your brand. Sign up below and we'll deliver it straight to your inbox every month.