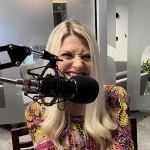 Yep, you read that title correctly: Chelsea is on air! Thank goodness she did not bring any smoothies. She announces her newest segment that apparently is weekly—we will see how that pans out. Roop celebrated his 49th birthday yesterday… Happy Birthday to the big guy!
As we round out March, we focus on one digital trend today: NFTs and how they are shaping the world we're living in. Is there a marketing play for your brand? Stay with us until the end and you'll hear some digital marketing thoughts.
NFTs — More like WTF?
NFT stands for non-fungible token. It's built using the same kind of programming used for cryptocurrency, like Bitcoin or Dogecoin (TO THE MOON!), but that's where the similarity ends. Physical money and cryptocurrencies are "fungible," which just means they can be traded or exchanged for one another. Makes sense so far, right?
NON-fungible means they can't be traded, or more accurately they are singular, unique digital items (usually jpgs in the case of digital "art", but they can also be things like music files, in-game items for video games, avatars, etc.). Even tweets count here.
Twitter co-founder Jack Dorsey sold his first ever tweet as an NFT for more than $2.9 million. Yep, nearly $3 million.
Unique identifying codes (or digital signatures) is what makes them, well, unique. No one can copy, there's only one original. How do you get them? You'll need a digital wallet (i.e. cryptocurrency) to purchase them, and then you can go to town on the digital exchange of your choice. There's tons, just Google it. Popular ones include OpenSea.io, Rarible, and Foundation.
And yes, you can sell your NFTs just like you would a Monet painting. And NFTs are BIG money. Anyone own NFTs? Let us know. Would love to hear more from someone in the game!
Google Analytics is rolling out GA4
Chris Kizer is coming on in the next couple of weeks to dive into this. Nothing for you to do as of now, but a lot of updates on the back end are coming!
Until next week, folks.