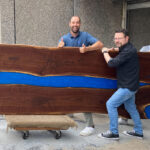 Welcome to one of our shortest podcasts of the year! A mere 19-ish minutes. "Why?", you may ask. Well, it's another day in the life of Sam and Roop and the table saga continues. Our boy Ben at Woody River Hardwoods met us back at the agency this morning to pick up our beloved table he built us. It's a sad day because she's going to have to be cut in half in order to make its way up to the agency. Sam swears he's taking this table to his grave! In order to help him load it up, we hustled through today's podcast.
In other more relevant news, Roop is attending HubSpot's Inbound conference in a few weeks! He will be taking over our social media and even going live from Boston that week. Much more to come on that front as we get closer.
A couple of light digital trends for your listening pleasure:
Twitter Adds 9 Million Users, Posts Lower Revenue Result Amid Musk Takeover Fiasco
Amid ongoing uncertainty around the Elon Musk acquisition, Twitter has shared its latest performance update, posting an increase in active users, but a year-on-year decrease in revenue, which it's attributed to challenging market conditions.
Our take: If anyone thought Musk was REALLY going to buy Twitter, we have a bridge in Brooklyn to sell you. Meanwhile, 9 million new users aren't too shabby though for the Big Blue Bird with no election or pandemic pushing eyeballs.
Facebook's Parent Company Reports A Drop In Revenue For The First Time Ever
Facebook parent Meta was hit with a double whammy in the last three months: revenue fell for the first time ever and profit shrank for the third straight quarter, amid growing competition from TikTok and nervousness from advertisers.
"We seem to have entered an economic downturn that will have a broad impact on the digital advertising business," CEO Mark Zuckerberg told investors on a conference call. "I'd say that the situation seems worse than it did a quarter ago."
He said Meta would slim down spending and slow its pace of hiring to weather the storm.
Our take: This is likely the first of many consecutive drops for Meta. When you're the big dog, there's usually no way to go but down (and TikTok is right there happy to give you a push).
Do we have our table at the agency next week?! You'll be the first to know! Until then.
Subscribe To Little Bits
Get the latest, greatest advertising and marketing insights and news, plus our POV on what it all means to you and your brand. Sign up below and we'll deliver it straight to your inbox every month.