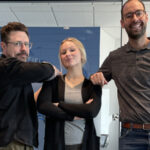 This is Sam's favorite episode! He usually says that after recording, but this one is going to be tough to beat. Why you ask? We had a surprise guest speaker travel all the way from Wisconsin to join us live on air! Aimee Maasch, sister of Chelsea Clement, is in the house and you will not want to miss the information she shared with us. Spoiler alert: don't eat any food Chelsea gives you. Sketchy!

Alright, let's chat digital marketing trends:

Amazon Prime members increasingly start their shopping searches on Google

More than half (57%) of people are starting their online shopping searches on Google platforms, an increase of 3 percent from May 2021, per a November 2021 Morgan Stanley survey reported on by Insider.

The shift is even more pronounced among Amazon Prime members. 56%of Amazon Prime subscribers begin their searches on Google, an increase of 5 percentage points over the same period. Meanwhile, the number of Prime members starting searches on Amazon fell by more than 3 percent points.

Our Take: By surfacing inventory from multiple retailers, Google has been able to capitalize on shoppers looking for in-stock items. That stands in contrast to Amazon, which has been hindered by supply shortages. The situation has helped Google halt the years-long trend of losing lucrative shopping search share to Amazon. If Google can maintain that momentum, it could generate billions more dollars in search advertising revenues.

Facebook loses users for the first time in its history

Say what?! Facebook parent Meta's stock suffered its biggest single-day loss yet as the company refocuses on the 'metaverse'.

For the first time ever, the company's growth is stagnating around the world. Facebook's growth was fueled by a mission to connect the world, including efforts to bring more people online in developing countries so it could sign them up, too. Today the company has made significant investments toward its aspiration of becoming a hardware giant, including hiring over 10,000 people and rebranding itself to Meta. But that transition is still in its early days.

Our Take: Only time will tell if Meta can reinvent itself with a focus on hardware. It hasn't worked for them in the past, but it could become profitable in the next few years.

Next week will be tough to top. Happy March Madness!