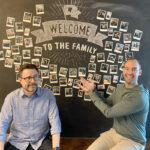 Happy Thanksgiving to our listeners—no doubt we are thankful for you putting up with us these last 11 months! We wish you and your families a wonderful and restful holiday break.
We'd like to wish our Founder & Chairman, the one and only David Littlefield, a very happy 70th birthday tomorrow! We are thankful for his legacy and leadership all of these years.
We keep it brief today everybody. We know, we know, you're in that holiday state of mind. But in case you're on the road or in the air, we thought it would be good to touch base one last time before Thanksgiving and alllll the food.
Roop updates on our Twitter discussion from last week, and we chat about some new and emerging platforms for your B2B brand to keep an eye on. Nothing groundbreaking at the moment, but he does bring up a great point about the importance of claiming your B2B brand's name on new platforms—even if they don't take off.
Today we talk Pinterest to shake it up. We really are impressed with how they keep on keeping on along after all these years.
Pinterest Enters New Partnership with Warner Music Group and Merlin
Pinterest has now announced new partnerships with Warner Music Group, Warner Chappell Music, Merlin, and BMG to bring top artists and music to the platform. Users will now be able to add tracks from popular artists to their Idea Pins. This partnership not only expands Pinterest's royalty-free music library to include licensed tracks, but will help in the discovery of new music by Pinterest users.
Our Take: This will allow users more freedom to expand their Idea Pins and engage with Pinterest. Pinterest keeps on quietly truckin'.
We will catch you next week—December is almost here and you know what that means…
Happy Thanksgiving!
– Roop & Sam
Subscribe To Little Bits
Get the latest, greatest advertising and marketing insights and news, plus our POV on what it all means to you and your brand. Sign up below and we'll deliver it straight to your inbox every month.