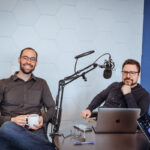 It's the LITerns last week and we are sad to see them leave! But boy would Roop & Sam love to be headed back to a college town for the semester—those were the days! The energy and excitement the LITerns brought to our agency this summer was amazing. They will be missed, but we encourage them to not be strangers and hope to see them again soon!
We got the official go ahead last week to begin a working relationship with Morton Health Clinic here in Tulsa. They are great people, and we are excited to redesign their website in the months to come.
This week we keep our digital trends light and your listening time quick (~20 minutes) as we wrap July before we dive into August digital trends.
A New Content Era Has Arrived: Social Entertainment, And How Can Brands Win?
Digital marketing has always been viewed as a numbers game – with creativity (the art) often taking a back seat in marketers' quest for performance data (the science). But in the world of social media – a world where entertainment is rapidly taking over – creative is a marketers' superpower; it's the one thing they have control over and the one thing that can help a piece of content thrive.
Our Take: People want to be entertained, not sold. Focusing more on engagement and video content on social is a must. But creating content that also entertains our customers is where we need to go. Roop and Sam dive into some interesting examples on how brands can better capitalize on the entertainment front given that's why consumers engage with social media on a daily basis.
Pinterest Debuts New Ad Format For Its Idea Pins
Pinterest has launched a new ad format called Idea ads, which will enable advertisers to showcase a brand's website, get step-by-step breakdowns, view ingredients lists and more.
Our Take: Pinterest's new Idea ads are an expansion of its TikTok-like Idea Pins, a multi-page video format it launched in May 2021. Roop & Sam share their thoughts on this move. While TikTok continues to pave the way for video content, should other platforms adapt similarly, or own the platform they've originally intended to create?
For those in the midwest, stay cool! We're dreaming of cooler weather, college football, pumpkin spice lattes (Roop) and that fall foliage. It will be here before we know it!
Subscribe To Little Bits
Get the latest, greatest advertising and marketing insights and news, plus our POV on what it all means to you and your brand. Sign up below and we'll deliver it straight to your inbox every month.