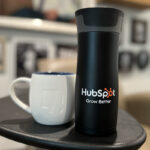 Roop is back from Boston and has weeks and weeks (and weeks) worth of content for us to digest from everything he learned at HubSpot's INBOUND conference.
We also kicked off 918 Week (see photo above), Tulsa's favorite area code, with lunch from our local friends at 1907 Barbecue and Cherry Street Kitchen.
Our main digital topic though is Google, and the insane importance of first party data. There is a TON that is changing when it comes to search and data in the months ahead. We want to make sure your B2B brand is prepared as these things roll out.
First Party Data Is The Key To Your Digital Marketing Kingdom
What was the number one thing Roop learned at HubSpot's INBOUND (Roop went to that, have you heard?) conference this year ? First party data is THE main thing all marketing departments should be working on and preparing for as we draw closer to shifting away from third party cookies.
Our take: Marketing teams need to start thinking beyond emails. What else are you doing to understand your customer and how to connect with them on their terms?
Google Announces New Search Updates Which Will Put More Emphasis on Content Depth
Google has announced some key updates to its search algorithms which will favor results created for humans as opposed to web pages that have been designed purely for SERP ranking. The search giant will be putting more emphasis on content quality and depth when it comes to search results, which could spark a change in your B2B SEO content approach. The change should improve the quality of search queries, and finally give more of a page's content weight in search algorithms.
Our take: Search is changing (isn't it always?), but we think this one is for the better. Littlefield Agency will be monitoring these changes and adjusting our client strategies based on these algorithm changes.
It's a loaded digital trend podcast, and we're excited to explore even more with you from INBOUND and beyond in the weeks to come! Have a great week and catch you again next Wednesday with special guest Brock Campbell.
Subscribe To Little Bits
Get the latest, greatest advertising and marketing insights and news, plus our POV on what it all means to you and your brand. Sign up below and we'll deliver it straight to your inbox every month.