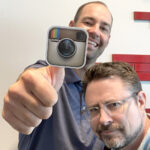 Happy Hump Day! Today we focus on all things Meta (cough cough, Facebook & Instagram). Roop and Sam dive into some interesting new features Instagram is rolling out as well as some quirky nuances with Facebook. It's a fascinating digital world we're living in, but never a dull moment that's for sure!
Instagram Adds New Business Search Tools Within IG Maps
Instagram has launched a new map search feature, which will provide another way to discover local businesses, and get more information about them, within the app's tools.
Our take: Everybody wants a piece of that search pie, and Instagram's native photo/video format lends itself nicely to businesses wanting to standout in results. We're fans! Good move by Instagram and a great thing for businesses.
Meta May Soon Enable Users To Set Up Various Facebook Profiles Tied Back To One Master Account
In the fight to remain relevant and engage current and future users, Facebook is considering how to evolve their platform. One such evolution of Facebook could include up to five separate profiles tied to a master account. These multiple profiles are one of Meta's answers to user concerns about increased political content on the website.
These additional profiles could allow users to engage with niche interests without fear of being judged or annoying others with their opinions. This may be a precursor to the coming Metaverse which may include multiple avatars for multiple elements. It is worth noting that Facebook has tried changing the newsfeed before to include alternative, topic-based News Feeds in the app, however this was largely hindered by spam and repetitive posts.
Our take: We are interested to see how this experiment progresses. Facebook has become its own niche platform and other apps have evolved to fill the gaps that it doesn't provide. This potentially could drive more user interest in the app.
See you next week!
Roop & Sam
Subscribe To Little Bits
Get the latest, greatest advertising and marketing insights and news, plus our POV on what it all means to you and your brand. Sign up below and we'll deliver it straight to your inbox every month.