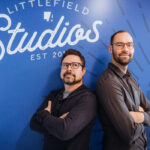 Sam and Roop holding down the fort while a big crew from Littlefield Agency is with the Grasshopper Mower team in Kansas on a photo/video shoot. No doubt they are having a blast and soaking up some unusually warm weather for this time of year!
We have big news: we have three new employees and three new interns all starting in June. It's going to be one hell of a party at the agency—we can't wait!
In other news: Roop has his first NFT. Yep, you read that right. Does he make millions and retire? We hope so, but still expecting him to come to the agency every day!
Let's jump on in. This week's digital trends are interesting:
The Social Media App That Wants You to Get Off Your Phone—Hello BeReal
A relatively new social-media app called BeReal has caught fire on college campuses, per Protocol, where students find the authenticity of the photos and simplicity of the feed a refreshing change from the glamour of Instagram. Instead of allowing users to curate their feeds with any pic they want whenever they want, BeReal only lets users post once a day. You have a time limit to do so, are you up for the challenge?
Our take: Who knows if this specific platform is still around a year or two from now, but the concept is pretty solid—less social addiction, more "being present" in the real world. We are fans as half the agency is now on the platform.

Snap Aims at the Metaverse With New AR Product
"Custom Landmarkers" lets users and marketers create AR visuals tied to a specific location, such as storefront displays, billboards and more. Because these capabilities are enabled with a smartphone camera lens, this signals the focus some companies are placing on the ability to access virtual worlds through any phone, as opposed to requiring an expensive headset.
Our take: AR has been a defining feature for Snap that has turned it into a major player in marketing, particularly in the beauty industry. Now, Snap is taking the product's success and expanding it to other uses. Super dope in our opinions. Should this take off, the marketing opportunities are endless.
BIG WEEK next week—PGA Championship comes to Tulsa!!! Sam is a little excited. Talk then!
Subscribe To Little Bits
Get the latest, greatest advertising and marketing insights and news, plus our POV on what it all means to you and your brand. Sign up below and we'll deliver it straight to your inbox every month.