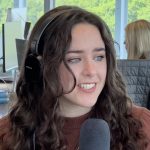 Before we kick off, we'd like to wish Steve Roop and his wife, Carie, a very happy 10th wedding anniversary! So glad you have put up with him that long. 🙂
It's a great day here in Tulsa, OK, and we are excited to have Allie Putman, a fellow LITern, on the podcast today. Allie just graduated from Oklahoma State University and will return to OSU in the fall to pursue a master's in mass communications with a concentration in global communications. She's working closely with Roop on the content side and helping the agency go viral on TikTok (featuring Tom, the modern-day Bill Hader).
We hate to say it, but we definitely called last week's digital marketing trend with about five hours to spare! Today, the focus is on all things Threads. Yep, Meta's latest and greatest Twitter. Here we are less than one week in, and Threads already has over 105M users!
Here are a few things to note for those B2B companies who have not yet explored the platform:
You create an account with your Instagram login. VERY easy, very smooth.
Posts can be up to 500 characters long and include links, photos, and videos up to 5 minutes.
The algorithm relies on the AI-driven discovery approach, which now powers other platforms like TikTok and Reels. You'll see many posts from accounts you do not follow (but your friends probably do).
No direct messages (DMs), no edit button, no chronological or custom feeds (yet).
Threads will eventually add to Meta's ad inventory options AND other platform integrations.
What should your B2B brand post? Think of it as an Instagram/Facebook/Twitter hybrid. The audience is still gathering, but it's pretty safe to say it'll likely end up more like the content you post on Facebook (images, videos, links, updates, offers, etc.) than Twitter—but with a rejuvenated audience.
In the meantime, experiment and explore. Connect with your audience/community, and be patient.
Will Twitter recover? It feels unlikely, but who knows? From an advertising perspective, there's never been a great need for our clients to advertise there. Threads feels different.
This one has legs, so we encourage your B2B brand to jump in if you haven't already. Tune in for much more to come on this topic.
Over and out; we will see you next week!
Allie, Roop, Brandon, Brenda & Sam
BONUS: Brandon's Super 8 Project!
Subscribe To Little Bits
Get the latest, greatest advertising and marketing insights and news, plus our POV on what it all means to you and your brand. Sign up below and we'll deliver it straight to your inbox every month.