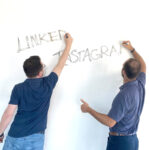 Another week has gone by and we still do not have a table! Don't worry, it's coming… we're just not sure when. We digress—welcome to another addition of Little Talks with Littlefield Agency! Roop has jury duty next week so the podcast is TBD at this point. The week after he's at HubSpot's Inbound conference, where he will 100% go live from Boston! We are excited for the podcast to make its way up to the northeast.
We haven't talked about LinkedIn in a while, so we kick off this week's digital trends with news about their platform.
LinkedIn Continues To See 'Record Levels' Of Engagement And Sessions Growth
As part of its latest performance update, LinkedIn's parent company Microsoft has shared that LinkedIn revenue grew 26% in the most recent quarter, while user sessions grew 22% – 'with record engagement'.
Our take: It's hard for us to get too excited about it, they claim "record engagement" every year, but on the surface the math just doesn't add up. We're all for exploration here, but really look at this as more of a job posting platform and networking opportunity rather than a place to successfully promote your content. With that being said, we try it from time to time. Just make sure it's worth your ROI should you go that route.
Instagram Adds New 'Boost' Promotion Option for Reels Clips
As it continues to double, and triple-down on short-form video, Instagram will now enable brands to amplify their Reels clips, via a new 'Boost' promotion option built into the format. Instagram says that Boosted Reels will be eligible to appear in feed, Stories, the Reels tab and the Explore page to help new customers find your brand.
To be eligible for boosting, your Reels clips must be less than 60 seconds and have a 9:16 aspect ratio, "which means they're filmed vertically and have a full-screen format". Reels that use third-party IP – such as copyrighted music, GIFs, interactive stickers, or camera filters – are not eligible for boosting. In addition to this, Reels which have been shared to Facebook are also not eligible
Our take: It might be a good way to get more people engaging with your Reels content, but really, the ultimate success of your short video clips will be determined by the actual content, and how well you understand what your target market wants to see from your brand and engage with. We're keeping our eye on some brands interacting with this, and seeing good initial engagement.
Will you hear from us next week? We hope so! Depends on if Roop gets called for his civil duty on a jury.
We will keep you posted.
Subscribe To Little Bits
Get the latest, greatest advertising and marketing insights and news, plus our POV on what it all means to you and your brand. Sign up below and we'll deliver it straight to your inbox every month.