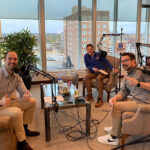 As we are close to wrapping 2022 and quickly gearing up for 2023, we saved the best special guest speaker for last! We couldn't be happier and more excited to welcome Trent Guyer from Grasshopper Mower. Trent is the VP of Marketing & Digital Strategy at Grasshopper and he drove down from Kansas to spend the day with us at Littlefield Agency.
We enjoyed lunch with Trent and some key stakeholders that work with him on a daily basis, and he met with them after to talk 2023 strategies. Of course we rounded out the day having him on the podcast before dinner downtown! Roop, Sam & Trent have been talking for months about what would be covered. After much consideration we narrowed it down to two great topics that no doubt are applicable to any B2B manufacturing brand.
Roop & Trent tee off on the first digital trend while Trent owns the second trend, which pairs perfectly with the first. It's so important for companies that have been around for 50+ years to evolve and adapt—that's how they are still in business many years later. We specifically discuss logos. You see brands like Dunkin', Mercedes, Starbucks etc. evolve their logos and marks over the years. They've done so very successfully. And then there's Kia, or "KN" as they are now recently searched for. Did they go too far from a refresh standpoint?
The new Kia logo commits the ultimate design crime
2021's Kia rebrand has been confusing drivers, with many believing it actually reads KN instead of Kia. And now, a Twitter user has revealed just how many are making the mistake – around 30,000 a month. That's how many people are currently Googling 'KN cars' every month. And the trend started at the beginning of 2021, which is – yep – when the new Kia logo was revealed in a ridiculous blaze of fireworks and drones. Basically, as soon as the new logo hit the road, the 'KN' searches started.
Our Take: Listen to find out!
history of the Grasshopper logo
For our second trend, Trent takes us through the history of the Grasshopper logo. It is FASCINATING! Grasshopper has been in business for over 60 years, and while making some subtle updates over the years, they have stuck to their guns with their original logo that was developed in the '60s. No doubt their logo, and brand, are a powerhouse within their industry.
Trent wraps the podcast with some insightful "bets" on the coming years and what this looks like specifically in the B2B manufacturing space. If Roop and Sam are betting men, which Roop is, we think he's nailed it. Does he mention Chelsea?!
A HUGE thank you to Trent. We had a wonderful day and loved having him on Little Talks with Littlefield Agency. You better believe we will be doing this again at this point next year!
Catch you next week!
Subscribe To Little Bits
Get the latest, greatest advertising and marketing insights and news, plus our POV on what it all means to you and your brand. Sign up below and we'll deliver it straight to your inbox every month.