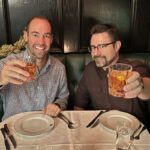 Roop & Sam are wishing you a Merry Christmas and very happy holiday season from Littlefield Agency as we wrap our final podcast of the year! My goodness this year has flown by. We can't believe 2023 is knocking on our door.
We keep it short and sweet today and do not cover any digital trends. Roop & Sam recap the annual LIttlefield Christmas party, which was an absolute blast! Additionally we talk through podcast stats and the fact that Chelsea caught a flight out to see her family instead of podcasting with us as we wrap 2022. Are you surprised?! It's okay, we don't blame her. Which episode takes the cake for most listens???? Tune up and tune in!
We are so thankful for you, our loyal listeners, for listening in on a weekly basis. We've got some great digital trends ready to go for you January 3, 2023 when everyone is back from the holiday break.
In the meantime, rest up, enjoy some eggnog, enjoy your family, and enjoy this special time of year.
We love you all.
"Up on the Roop Top" and "Samta Claus"
Subscribe To Little Bits
Get the latest, greatest advertising and marketing insights and news, plus our POV on what it all means to you and your brand. Sign up below and we'll deliver it straight to your inbox every month.