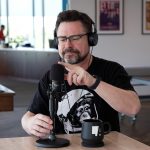 Good morning and welcome back to another episode Little Talks with Littlefield Agency! Roop & Sam are thrilled to announce that Philip Yong will be starting as a new developer here at the agency tomorrow. While Philip makes his grand entrance, Allie Putnam, our summer LITern, will unfortunately be leaving us Friday as her internship wraps and she starts her Masters program at OSU. We wish Allie nothing but the best and have loved having her around this summer!
In AI news, please enjoy this amazing snippet of Steve Roop (not really, it's AI generated using his voice) talking about his love for Twitter's new rebrand:
Pretty crazy, right? Repeat: THAT IS NOT THE REAL ROOP. It's just an AI sample of his voice reading a script. Sam and Roop share some thoughts / tips here to ensure you don't get scammed given how real this sounds!
Alright, this week's digital trends delivered …
Meta's Developing AI Chatbots with Over 30 Different Personalities
Meta's next phase of generative AI features will include AI chatbots that'll be able to communicate in different personas, according to a new report from The Financial Times. As per FT, Meta's experimenting with a range of different personas in its new AI chatbot tools, which will soon be made available in various elements of Facebook, Messenger and Instagram. The personas would range from recreations of historical figures (like Abraham Lincoln) to more stereotypical characters (a surfer that provides travel advice).
Our Take: AI struggles with human emotion and feelings, and the key to "personalities" feeling like actual humans is going to be emotion. We'll find out soon enough, Meta's looking to launch its new AI chatbots in September. Roop & Sam are skeptical though given the lack of emotion this technology already has.
Meta AR Ambitions Take a Hit, As Apple Pushes Ahead
Amid its broader Metaverse push, Meta is also developing AR glasses, within its expanding scope of digital wearables that will open up a range of new opportunities, for both the company and consumers. But its AR project, an extension of its current Ray Ban Stories glasses offering, isn't going as smoothly as hoped, and could be delayed, and even downgraded, according to latest reports. Meanwhile, Apple has moved ahead with its VisionPro mixed reality device, which will be available early next year.
Our Take: If it feels like Meta's focus is all over the place right now, you're right. New social platforms, AI, AR/VR …. In this case, despite the distractions and setbacks, they're too invested to just give up. And as an agency, we've had some great successes with clients in the virtual world. More to come here, and our bet is on the AR front in the years to come.
Catch you next week. Do we have a special guest? Stay tuned!
Roop, Brandon, Sam and Brenda
Subscribe To Little Bits
Get the latest, greatest advertising and marketing insights and news, plus our POV on what it all means to you and your brand. Sign up below and we'll deliver it straight to your inbox every month.