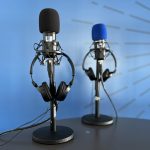 Welcome to another edition of Little Talks from Littlefield Agency! Happy April to our listeners, and Happy Easter to you and your families. Can you believe we are already in Q2?
We are ecstatic to announce our agency has hired Philadelphian Jake Bense as a copywriter. He's a talented individual with a passion for B2B marketing. His start date is April 24.
Today, we continue the AI conversation and discuss the Metaverse. Stay tuned for next week's episode; we have BIG NEWS on the employee personnel front, plus some tangible takeaways about digital trends for your B2B brand. 
Meta Reduces The Price Of Its VR Headsets To Maximize VR Adoption
Meta has changed its VR headset prices again, announcing new, cheaper Quest and Quest Pro units. Meta reduced the cost of the 256GB Quest 2 by $70 ($429 per device). The Quest Pro has been slashed by $500 (bringing it to under $1,000 per unit).
Our Take: Meta is ALL IN with their Metaverse and VR. Affordability is one of the keys to adaptation, making this a step in the right direction. There are many applications for your B2B brand and how you can dive into the metaverse. You need to experience it. It's not just a shiny object; it's an opportunity to foster relationships and customer loyalty and get on the radar of potential prospects.
LinkedIn Adds AI-Generated Profile Summaries And Job Listings
As a Microsoft-owned company, it's no surprise LinkedIn's adding more AI elements to its platform, especially with Microsoft integrating OpenAI's conversational GPT back-end into virtually all its apps and functions. On LinkedIn, this provides new options for creating your LinkedIn profile, while it's also adding AI-generated job descriptions, as well as new AI technology education opportunities (via LinkedIn Learning).
Our Take: If you're keeping score on this month's Little Bits, it's Microsoft: 2 vs. Google: 0. Listen to Sam and Roop's take on what this means for consumers and your B2B brands.
Happy Easter from Littlefield Agency! We will catch you early next week.
– Roop, Sam & Brandon
Subscribe To Little Bits
Get the latest, greatest advertising and marketing insights and news, plus our POV on what it all means to you and your brand. Sign up below and we'll deliver it straight to your inbox every month.