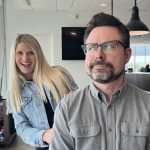 Sam's still out on paternity leave (welcome to the world, baby Veronica!), so everyone's favorite guest is stepping in to co-host this week—Chelsea. After a week off, we've got plenty of catching up to do, including a recap of a visit to Grasshopper Mowers and Roop's trip to New York City. And do we maybe have another guest on the third mic next week? Listen in to see who that could be!
For this week's topics, we hit two—Instagram + GIFs and Facebook + AI. Let's go!
Instagram Adds GIFs in Comments
You can now search and share Giphy GIFs in the comment stream, providing another way to respond to Instagram posts. Which feels like it should have been a thing years ago.
Our Take: Cool?
Meta Begins Testing Generative AI Elements for Facebook and Instagram Ads
As Meta looks to better align itself with the generative AI shift, it's building a range of new ad tools that will help refine its AI options, including new, built-in generation tools for ad creative. Earlier today, Meta outlined its new AI Sandbox project, which it's currently testing with a small group of advertisers, and includes a range of new options for building better ad campaigns. Meta's AI Sandbox currently incorporates three elements: text variation, background generation and image outcropping. Text Variation will use AI to generate multiple variations of ad text, giving marketers more options to choose from to maximize performance.
Our Take: AI, AI, AI everywhere!
Subscribe To Little Bits
Get the latest, greatest advertising and marketing insights and news, plus our POV on what it all means to you and your brand. Sign up below and we'll deliver it straight to your inbox every month.