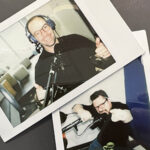 We can't help ourselves, so we spend the first 15 minutes of this podcast talking about what we passionate marketers look forward to every winter—Super Bowl commercials! Our picks for the best spots, the most "out there" advertising, and how Sam's boy, Jake from State Farm, absolutely crushed TikTok instead of investing $6.5 million in a Super Bowl spot.
Our two digital trends this week:
Mobile Ad spend reaches $295 billion in '21
Mobile adoption continued to soar last year with users spending approximately 5 hours per day—an increase of 30% since 2019.
Our take: users engaged more deeply in social, communication, photo and video advertising tactics (duh). 70% of time spent on mobile last year was spent in apps like YouTube and TikTok (surprised?). How does your brand quickly catch your target audience's attention? Roop and Sam have a few thoughts on this.
Gmail campaigns to stop running June 28
Google recently announced that dedicated Gmail campaigns will no longer run as of June 28 of this year.
Our take: you can still use discovery campaigns to reach customers across Google feeds that will achieve set measurement goals in Google ads. This delivers visual, inspiring, personalized ad experiences to people who are ready to discover and engage with your brand.
Get ready for next week! You're not just stuck with Sam & Roop—we will have a special guest on air. Is it finally Chelsea?!
Subscribe To Little Bits
Get the latest, greatest advertising and marketing insights and news, plus our POV on what it all means to you and your brand. Sign up below and we'll deliver it straight to your inbox every month.