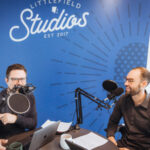 Roop and Sam are back to talk all things digital marketing! Sam's lack of sleep last night results in Roop leading the show. After the caffeine kicks in, both Sam and Roop give listeners an update about what's going on at Littlefield Agency this week and cover two more digital trends:
Spotify rolls out real-time lyrics. While this is good to know in general for Spotify users (by the way, Roop is an Apple Music guy…) we focus on Spotify's evolvement over the last few years especially as it relates to one of our favorite topics these days: podcasts.
Twitter is shaking things up with Dorsey exiting stage left and new CEO Parag Agrawal is bringing on alternative revenue streams with features such as Twitter Blue, which allows users to read ad-free articles and "undo" tweets. With roughly 400 million active users (wait until you hear Roop's math here), Twitter, like all other social platforms, continues to evolve to stay relevant.