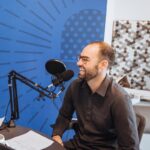 Sam is back from Italy—don't worry, no Italian accent on this episode. A lot of amazing things going on at the agency this week and next:
The "LITerns" are in the house and already making an impact
Three new full time employees start June 6
Your June digital trends are here!
Programming Note: Roop is in San Francisco next week, so we will take a quick break in our regularly scheduled podcasting. You better believe we're back the week of June 13!
Brands Plan to Invest More in Search in the Next 12 Months
One in six brands plan to increase their paid search advertising budget over the next year. A new report from Forrester, on behalf of Microsoft, shows that the development of the "workday consumer" is creating even more touch points during the average buying journey, as people continually shift between personal and professional searches and activity while working remotely. As a result, 60% of companies surveyed said they plan to increase advertising budgets for search, online video, and display over the next year.
Our take: Consumer habits and preferences have shifted. Brands already recognize this and are planning to invest more in search and other types of advertising, according to the report. Search continues to be an important touchpoint during multiple phases of the buying journey – from initial research, to exploration, to purchase (and everything in between). "Go where your consumers are," is a simple statement and a very complex challenge. In the "before times" marketing focused on connecting with customers everywhere but work. That all changes when work is potentially everywhere and anytime.
Global CTV Impressions Outpace Mobile, Accounting For Nearly Half Of Video Impressions
Connected TV (CTV) surpassed mobile as the channel with the greatest share of global video impressions, with 46% of all video impressions, up from 40% in 2020. Meanwhile, mobile dropped from 43% to 39%, a sign that consumers keep flocking to streaming devices to get their content.
Our take: The past two years have seismically changed consumer behavior and content consumption habits. CTV is no longer in its experimental or emerging stage. It's an integral pillar in the marketing landscape and offers consumers a premium viewing environment coupled with data-informed targeting and captivating ad formats.
Catch up with you the week after next!
— Sam & Roop
Subscribe To Little Bits
Get the latest, greatest advertising and marketing insights and news, plus our POV on what it all means to you and your brand. Sign up below and we'll deliver it straight to your inbox every month.