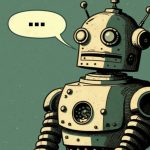 Welcome to another edition of Little Talks from Littlefield Agency––live from Tulsa, Oklahoma! Roop and Sam discuss your latest digital trends before we take next week off. That's right, Roop is in NYC, and Sam's wife is giving birth to their second kiddo!
Listener, we will miss you. But don't worry (or do)! The following week, Chelsea Clement will take Sam's place with Roop (so surely we will be back with a bang)!
Today's topics: AI and Twitter. AI is doing some potentially sketchy things, but we'll talk you off the ledge. Sam and Roop talk about how Littlefield Agency continues to embrace and lean into different AI platforms, and why it's important that your B2B brand does as well—with some guardrails.
What Does It Mean When AI 'Hallucinates'?
It may be possible for AI to "read" things incorrectly from the internet and repeat them. However, hallucinations are not just regurgitated BS. They are inaccurate information that doesn't match the training data (such as texts, images, etc.) it was fed.
Using Google's Bard chatbot, Ben Zimmer, a Wall Street Journal columnist, learned that Hans Jakobsen, a linguist who never existed, coined a phrase he created called "argumentative diphthongization." What causes this to happen? Sundar Pichai told "60 Minutes" that all models (including Bard) suffer from the same issue, but nobody has solved it.
Our Take: This is a great reminder that AI is a solid tool but needs to be double-checked and can't be taken at face value. As we're using different platforms at Littlefield Agency, we're operating under a "trust but verify" model.
Elon Musk Announces Twitter Is Purging Inactive Accounts And Freeing Up @Handles
With Twitter chief Elon Musk announcing that the company is removing inactive profiles from its system, now might be the time to grab that Twitter username you've always wanted.
Our Take: If you haven't been to the Blue Bird in a while, it might be a good idea to pay it a visit and make a quick tweet so you don't lose your B2B brand handle.
We will see you in two weeks! Thanks for listening, and we can't wait to chat then.
Roop, Sam, Brandon & Brenda
Subscribe To Little Bits
Get the latest, greatest advertising and marketing insights and news, plus our POV on what it all means to you and your brand. Sign up below and we'll deliver it straight to your inbox every month.