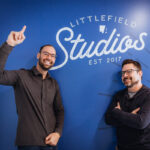 Roop & Sam keep it light this week. We know it's prime vacation time + everyone is in that 4th of July state of mind! LITern Jace Pevey is sick today, so he will make a guest appearance next week on the podcast. Excited to round out our intern spotlight with him then!
We don't necessarily dive into digital trends (we told you we were keeping it light!), but listen in for an enlightening conversation regarding the power of CRM and why we love HubSpot.
Roop set out on an inbound journey months ago, and is a pro at this point. CRM systems are simple in theory, but complex in nature. Is your brand tapping into the full potential of your CRM?
We announce that Roop heads to HubSpot's annual INBOUND conference the week after Labor Day in Boston. He's ready for some labstah and of course all things HubSpot.
Happy 4th to you and yours! Kick back, find a pool, enjoy a drink / good food and most importantly the company of family and friends.
Catch you next week.
– Roop & Sam
Subscribe To Little Bits
Get the latest, greatest advertising and marketing insights and news, plus our POV on what it all means to you and your brand. Sign up below and we'll deliver it straight to your inbox every month.