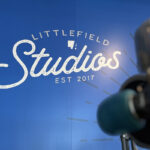 It's our shortest B2B marketing podcast to date. That would be because our camera battery was dying, but we still fired through ten minutes of quality content!
We're excited to announce Natasha Stack has joined us as a designer here at the agency as of October 17. No doubt she will be a great fit and bring cutting edge design trends to our B2B clients. We also had a wonderful Oktoberfest agency celebration last week—check out our social media channels to see some pics and video. Chelsea and Brock are jet-setting with our friends at Grasshopper Mower in Louisville, Kentucky this week at the Equip Expo. Will Chelsea finally wear the Grasshopper mascot? Time will tell!
Let's dive into your digital trends! We continue talking about TikTok today as it has recently introduced some important new platform features.
TikTok Introduces a Dislike Button for Comments
Dislikes will not be made public, nor will you be able to see how many dislikes a comment gets, but TikTok has now introduced a comment dislike button to help identify irrelevant and inappropriate comments on the platform. Dislikes can be "taken back" by tapping the button again. This is not meant to replace the already included reporting feature. Comments related to harassment, bullying, hate speech, etc., should still be reported.
Our Take: This is a much-needed feature that in theory should improve the user friendliness of the app. Theoretically comments with many dislikes should be pushed further down the comments thread or otherwise be flagged by the system for removal. We will have to observe the next steps for this new feature.
TikTok Announces a Huge Increase to its Video Descriptions as it Leans into Discovery
TikTok has expanded the post description field from 300 characters to 2,200 – a 730% increase in the space available to outline your clip. The 'searchable' element is the key focus in this respect.
Our Take: As we've been discussing for weeks, TikTok is fast becoming the preferred search engine of a whole generation. What is your B2B strategy as we approach 2023 to ensure you're serving up relevant, keyword rich content to your target audience?
Roop is on vacation for the rest of this week—he's ready for a break from ole Sammy! He will be refreshed and back at it next week. We will SEE you then!
Subscribe To Little Bits
Get the latest, greatest advertising and marketing insights and news, plus our POV on what it all means to you and your brand. Sign up below and we'll deliver it straight to your inbox every month.