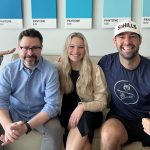 It's a big week on the podcast! Not only is Sam back and in action, but we welcome Chelsea's sister, Aimee Maasch, back almost one year after her podcast debut. Aimee is in town visiting Chelsea and fam, so she stopped by Littlefield Studios to talk about AI, and her take on it from a Gen Z perspective.
Does this up-and-coming generation care? What is their take on brand adoption with this quickly evolving technology?
We cover it all, and she leaves us with bonus a Chelsea story from her childhood!
Catch you next week with our latest and greatest June digital trends.
Aimee, Roop, Sam, Brenda & Brandon
Subscribe To Little Bits
Get the latest, greatest advertising and marketing insights and news, plus our POV on what it all means to you and your brand. Sign up below and we'll deliver it straight to your inbox every month.