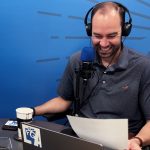 Welcome back to another edition of Little Talks with Littlefield Agency. What do we have in store for you this week? Well, Roop is grumpy, but he's going to be okay. He snaps out of it (kind of)—the nice thing for you as a B2B marketer is that this week's podcast is less than 15 minutes!
We are thrilled to announce that Jake Bense has joined us all the way from Philadelphia as copywriter. Jake has impressive agency experience and a love for B2B, making him an incredibly valuable asset for our clients.
And Happy Birthday to a Littlefielder, Ms. Sarah Ketner! We are so thankful for everything she does here at the agency and for our clients.
Now, let's dive into digital trends. Here we go!
What Is Going On At Twitter, And Should You Care?
It's been a hectic few weeks for the world's richest man. Exploding space ships, Tesla's net income down 24% YoY, Blue Checkmark drama, Microsoft pulling Twitter from their ad platform, etc. And, this week's gem from The Hustle, "One day without Twitter drama would be nice: That day ain't today, as Elon Musk, grand arbiter of blue checks, has posthumously verified accounts for the likes of Kobe Bryant, Anthony Bourdain, and Chadwick Boseman… which may be against a California law forbidding false endorsements." Yikes.
Our Take: This bird is on life support, and is a shell of its former self (and that might be saying something). Easy to see better places to spend your B2B ad budget for greater effect and less headache right now. We understand most B2B brands have not been actively advertising on Twitter for the last six-plus months, but hear what Sam and Roop have to say about what is potentially to come.
Instagram Updates The 'Link In Bio' Feature To Include Up To Five Links
As one of Instagram's most requested features, adding more than one link to your profile helps the platform compete with third-party link hosting services like Linktree or Later's Linkin.bio. The feature isn't without flaws, though if you add more than one link, anyone visiting your profile will still have to click through a "Your First Link And One Other" message to see the list of links. This is definitely a step in the right direction, but maybe not enough to move people away from the customizability offered by third-party services.
Our Take: Let's go!!! If your B2B brand hasn't done this, we encourage you to do it ASAP. It's worth the five minutes. Think about your customer and what's most relevant to them.
See you next week, and hopefully, Roop will be in a better mood!
Roop, Sam & Brandon (Plus, Brenda!)
Subscribe To Little Bits
Get the latest, greatest advertising and marketing insights and news, plus our POV on what it all means to you and your brand. Sign up below and we'll deliver it straight to your inbox every month.