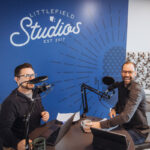 Another week, another great B2B marketing podcast! Just Roop and Sam this week—starting to get back into the swing of things as we make our way through summer. By the way, where in the world is the time going?! Cannot believe we're halfway through July.
We dive right in this week. We have two digital marketing trends to kick off July since we went off script last week. Let's do it:
Gen Z, Millennials Say Creators Tell The Best Stories
According to a new study from Whalar, Gen Z and millennials are actively avoiding traditional advertising because they prefer going straight to the content they want—namely to the accounts of their favorite niche creators. This unreachable "ad-never generation" is utilizing ad blockers, paid content and more and finding their own places in private digital communities founded on shared passions.
Creators are at the heart of many of these communities, embracing underrepresented groups, promoting honest self-expression, and entertaining users all at once. And their content resonates with viewers. In fact, 70% of US social media users say that creators and influencers create content that they enjoy watching again and again and 61% say creators tell the best stories. What's more, 63% trust content from individuals as much or more than content from big news and media organizations.
Our Take: Holla out to our LiTerns for helping us see the truth is in the pudding! Creators can help by serving as cultural diplomats for brands and providing access to their own gated communities. They have their fingers on the pulse of these movements and are often leading them as they discover new topics and launch new initiatives.
What Marketers Need To Know About The Podcast Consumer
Podcasts continue to burn up the media landscape, with no sign of slowing down. With 67 million Americans listening in the past 30 days, this is an audience that B2B marketers need to know.
• 35% of listeners average 4-programs weekly
• Americans average 7 hours of listening per week
• Heavy listeners average 10 programs and 10 hours per week
Our Take: Podcasts are key to reaching affluent audiences (just ask Roop and Sam!). Listen in for more thoughts on how your B2B brand can break into this wonderful space.
As always, thanks for reading/listening. Until next week!
Subscribe To Little Bits
Get the latest, greatest advertising and marketing insights and news, plus our POV on what it all means to you and your brand. Sign up below and we'll deliver it straight to your inbox every month.