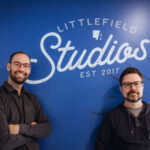 Sam's back and enthused from his MAGNET conference in Boston last week. Many great conversations were had, but one in particular about TikTok (surprised?) sparked his curiosity. One of the Creative Directors from TikTok was present to discuss what the platform is all about:
This is a feel good platform where users are averaging 47 minutes within the app once they dive in. Your B2B brand must be intentional and show a different side of your company that most don't see on other platforms. Authenticity and vulnerability are welcome and it's okay to not be perfect.
We have other digital trends below, but feel it's important for your brand to make its presence known on TikTok. Listen in to hear Sam & Roop's thoughts on buying ads versus placing organic content.
Wishing you and yours a wonderful Easter! We will catch you next week.
Digital Trend 1: Instagram says it will stop supporting the IGTV app
It walked so Reels could run (or at the very least become a competent TikTok clone).
The era of Instagram TV comes to an end after its 2018 launch; however this does not mark the end of Instagram's foray into the video format. Instagram continues to go toe-to-toe with its video competitors, TikTok and YouTube, and offers incentives for top creators to produce content for Instagram Reels.
Our take: Video is a huge part of why people enjoy Instagram and Reels continues to be a growing and important part of Instagram. The IGTV app was complicating the ecosystem and now it's gone. Take part in reels & TikTok as you engage with your audiences.
Digital Trend 2: Twitter Shops: More space to shop
With Twitter Shops, merchants can handpick a collection of up to 50 products to showcase to shoppers on Twitter.
The feature, which is free to use, gives people the chance to view products from the profiles of their favorite brands, so when you talk about and discover products on the timeline, you can now browse them on Twitter, too.
Our take: We know products sell via social media, so it just makes sense that Twitter is upping their shopping game too. A great opportunity for your brand to sell on another medium to its customers.