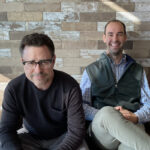 Happy November—we can't believe we're saying that! We're excited to announce we've landed three new clients in the last month. Welcome EMSA, MidAmerica Industrial Park & Signal4D out of Seattle, WA!
It's a new month, and you know what that means, your latest digital trends are here for your B2B brand. We talk about an intriguing new app, and a very important update that is already happening in the world of YouTube.
Let's get to it:
The Hottest App Right Now? One Where Teens Have to Say Nice Things About Each Other—Introducing Gas
Gas is topping Apple's App Store charts despite being limited to a handful of states. Gas asks teens multiple-choice questions about classmates in their school, letting them choose yearbook-style superlatives such as "the most beautiful person you have ever met" or the classmate who is "never afraid of getting in trouble." Users have downloaded Gas more than 500,000 times since its launch in late August, according to Data.AI. The goal is to promote positivity online among teens.
Our take: Fantastic. Much like BeReal, we're (finally) seeing more and more innovation in the social space that leans into positive outcomes. Do we think this app will take off? No. Do we think other platforms may notice and steal the concept. We hope so. We're loving the innovation here. And we think there is a play for B2B brands.
YouTube Adds Support for @Username Handles
In an effort to improve the way creators identify their channels and direct viewers to their pages, YouTube has announced "handles". The "handles" are an @username format that are available to everyone on YouTube. The handles will be available on both channel pages and shorts to make them "instantly and consistently recognizable" across the platform. Users will be able to @mention other in comments, community posts, video descriptions, and more.
Our take: It's about time that YouTube caught up to these handles which are widely available on most other social media platforms. Make sure you are on the lookout for an email from YouTube so your B2B brand can implement this. Unfortunately you can't login and proactively update this in your account settings, you have to wait for the prompt from YouTube.
Roop's steak dinner is next Tuesday night, a reward for hitting our follower growth goals this year! Tune in next week to hear all of the details. See you then.
Subscribe To Little Bits
Get the latest, greatest advertising and marketing insights and news, plus our POV on what it all means to you and your brand. Sign up below and we'll deliver it straight to your inbox every month.