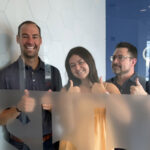 We are PUMPED to have our LITern Sophie "Alabama" Ames live with us today! What are our listeners going to do when they are stuck with just Sam & Roop at the end of the summer?
Sophie was born and raised here in Tulsa, OK, but journeyed to Alabama (Roll Tide as she would say!) to carve out her own path in college. As a "rising junior", she shares her thoughts on her internship, and of course today's digital trends. It is refreshing having her POV geared towards the following digital marketing trends:
YouTube Shorts Up To 30 Billion Daily Views As Shorts Ads Begin Testing
And that's not all – according to Google, Shorts is now averaging over 30 billion daily views. That's a significant increase from the 5 trillion all-time Shorts views that YouTube reported back in February, which underlines the rising popularity of short-form content, and why every platform is now making it a focus.
Our Take: Another way for YouTube to monetize video… can they keep up with TikTok?
Instagram Is Testing a New Full-screen Home Feed View
As discussed in earlier months, Instagram is pushing video content over static images this year. Part of this rollout is testing full-screen images/videos.
Our Take: Instagram is trying to keep pace w/ TikTok on this one, which utilizes as much screen space as possible to capture your attention. Incorporating vertical shots while shooting and editing content may be more important than ever and perhaps the days of square photos being the standard could be coming to an end. For now, it's in testing, but we see this as a very likely permanent move for Instagram.
Next week our graphic design LITern Jace Pevey joins us! He will round out our LITerns on the podcast—time is flying people!
– Sophie, Sam & Roop
Subscribe To Little Bits
Get the latest, greatest advertising and marketing insights and news, plus our POV on what it all means to you and your brand. Sign up below and we'll deliver it straight to your inbox every month.