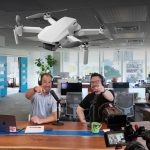 Welcome back to another edition of Little Talks with Littlefield Agency, where we talk about the latest and greatest B2B digital marketing trends! First up, let's give a HUGE shoutout to Chelsea Clement and her family on the birth of their son Cooper! We are so happy for them. She is the best boy mom in the world, and we can't wait to meet the little guy.
For those of you that normally don't watch the video of our podcasts, make sure and check it out this week. Brandon is officially a certified drone pilot, and provided us with a bird's-eye view in addition to our usual three-camera setup. Once again, Brandon takes the podcast's production to new heights (literally)!
On to the main event…
Six ways savvy marketing directors are using AI to free up time and increase ROI
We all want more hours in our day, right? Artificial intelligence has been a hot topic lately, but are you and your B2B marketing crew making the most of this high-tech tool to streamline your daily tasks? Here are just a few of the ways AI can lighten your workload:
Generate Content Ideation
Identify SEO Opportunities
Enhance Customer Service Experiences
Summarize Reports
Automate Routine Tasks
Data Entry
Listen in as Roop and Sam dive into these six easy wins for AI to improve your free time and even increase your ROI (because, after all, time is money). We can't wait to hear your thoughts on how you're using (or would like to use) AI for your marketing efforts.
Quick housekeeping note: we'll be off air next week and then back at it on October 25th. See you in two weeks, and as always, thanks for listening!
– Brandon, Roop, Brenda & Sam
Subscribe To Little Bits
Get the latest, greatest advertising and marketing insights and news, plus our POV on what it all means to you and your brand. Sign up below and we'll deliver it straight to your inbox every month.