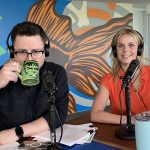 We're back! After a week off the mics Roop is back with special co-host, Taylor Bartley, to share their notes from HubSpot's INBOUND conference in Boston. This week we talk about new features and updates to the HubSpot platform, as well as some great insights from INBOUND sessions presented by Neil Patel and Jay Schwedelson.
Also be sure to check out our POV on the two letters changing everything for HubSpot and marketers, and if you want really deep dives into HubSpot's new features, head over to hubspot.com/new.
Where's Sam, you ask? Give this episode a listen to find out!
Subscribe To Little Bits
Get the latest, greatest advertising and marketing insights and news, plus our POV on what it all means to you and your brand. Sign up below and we'll deliver it straight to your inbox every month.